Jehova Rafa Dental Center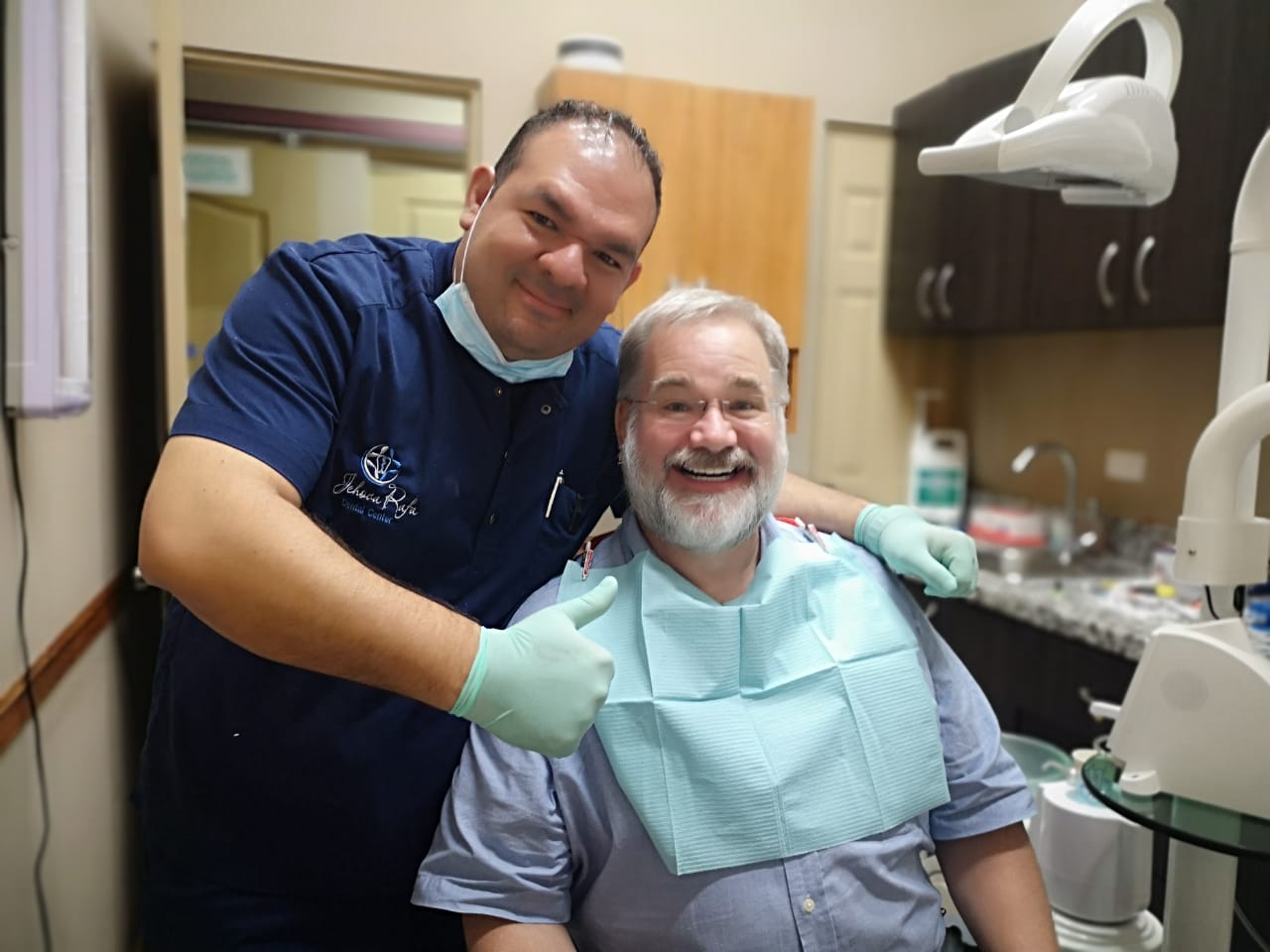 We are very proud to say we are one of the best dental clinics in Costa Rica and a proud member of PROMED, Costa Rica's Health Chamber. We've been included in a very exclusive dental clinic circle "the 9 best dental clinics in Costa Rica (Leading Dental Clinics CR). More proof of the high quality care we provide to all our patients.
Our clinic has been offering dental services to international patients for more than 15 years. When we started we were a "one-man-show operation", only performing general procedures. Since then, our clinic has grown and now we are a specialized dental center with a full team of specialists in all dental areas.
Our founder, Dr. Albert Coto attended the world famous "Implant Dental Program" in Frankfurt, Germany. An exclusive and prestigious program very few dental professionals can have access to. Since then, Dr. Calvo has been our Implantologist in charge of supervising all procedures performed at our dental clinic.
Another great asset we have is Mr. Olger Gonzalez – our customer service representative. Between Dr. Calvo and Mr. Gonzalez we have an excellent team in charge of making sure that our clinic is always a pleasant place for all our patients. We know that being in a foreign country is scary, even more when it is your first time traveling far from home or your first time going to beautiful Costa Rica. We're confident you will enjoy your entire experience when you come see us for your dental needs.
Dr. Alberto Coto Calvo
D.D.S., MSc Implant Dentistry
Graduated in Universidad de Costa Rica, 2005.
More than 1000 dental implants placed with the rehabilitation successful.
Minor in implant dentistry 2010, Miami University, USA.
More than 2 simposiums every year outside the country for professional update.
Master in Oral Implantology, Goëthe Universität Frankfurt, Germany.
Dr. Jorge Saenz
D.D.S., MSc Periodontist Specialist
Graduate at Universidad de Chile.
A lot of experience in periodontics procedures.
Daniel Alfaro
D.D.S., MSc Prosthodontist Specialist
Dr. Luis Diego Camacho
D.D.S., MSc Endodontist Specialist
Graduated at University Latina of Costa Rica.
Master Degree in Endodontics at University Latina of Costa Rica.
International Congresses since 2015.
3rd Place National Research Award CCDCR.
Expositor II & III Symposiums of Endodontics at University Latina of Costa Rica.
Dra. Adriana Sanchez
D.D.S., General Practice
Graduate at Universidad de Costa Rica.
Services
Dental Implants
Zirconium Crowns and bridges
Emax Veneers
Flexible Dentures
Snap on Smile
All on 4 and All on 6
Galvano Prosthesis
Snap on Dentures
Inlays, Onlays
Root Canal Therapy
Gum Graft
Bone Graft
Wisdom teeth Surgery
Sinus Lift
Invisalign
Our specialties and what we can arrange for you
All on 4 or All on 6 Package
4 or 6 dental implants
X-rays
CBCT
Computer Guided Surgery
Extractions
Bone graft
IV sedation
Medications
Accommodation
Airfare
Ground transportation
2 days tours
10 years warranty
Porcelain Bridge or Zirconium Bruxzir® Arch
GOD HEALS WE ARE JUST INSTRUMENT
Chat With Us
We have a full time team ready to serve you!
Use the WhatsApp

button below to be connected to us instantly.
You can also reach us at: (305)799-6765.
We look forward to speaking with you!