Sparky and Michael Pagnini - Dr Suarez
Hi ,This is Doris "sparky" Neuhaus . Dr Suarez was a professional surgeon. His bubbly personality was a plus . I am 75 years old and Dr Suarez and his entire office were not just professional but delightfully friendly and helpful. I was pleasantly surprised when both Dr Suarez and Dr Torres called to check on me every day as I recuperated . My husband was also having dental implants and they also checked on his progress as well.
I have been told by friends that I look 15 to 20 years younger . My face lift looks so natural that unless I tell people they simply Think I look rested and much happier every since I returned from Costa Rica. The health care is 20 times better than what you would receive in The United States . I felt safe, and was treated like a celebrity . Anyone who chooses to go to Costa Rica for any medical procedures will be amazed at both the results and the care they will receive in the beautiful happy country of Costa Rica.
Hope to return middle of next year.
Sparky and Michael Pagnini
Doris & Michael - Plastic and Dental surgery
We will always be grateful to Patient Journey for your organizational skills to make sure our trip was flawless. We're also so thankful for the generous concern Dr. Jaikel and Dr. Suarez (and their respective staff) had for our well being before, during, and after our surgeries. That was heartwarming how they checked on both of us. You made me feel and look so much younger. I smile each time I think 🤔 about all of you and how much you contributed to making both Michael and I feel so happy and confident about our future 😘
We look forward to seeing you again mid Nov for the additional work we've decided to move forward with. CHEERS,
Michael and Doris.
Christine and Lyle - Plastic and Dental surgery
Hello Cesar and the Patient Journey team
I want to tell you what a wonderful experience we had with Dr. Suarez and Dr. Salas. You did an excellent job coordinating everything. We will be back to see Dr. Salas in May for more dental work for my husband, Lyle. She is so nice and kind. I enjoyed meeting and talking with her.
Thank you for all your help coordinating this for me. I could not have done it all without you.
Christine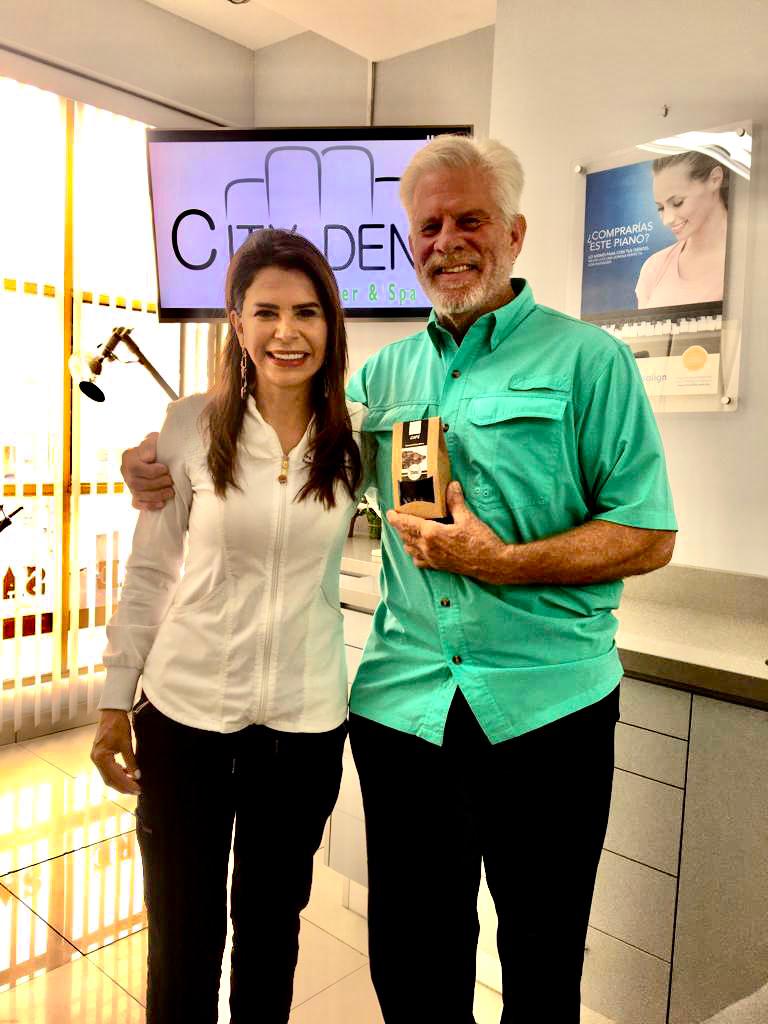 Dr. Salas and Lyle
Kelsey
Patient Journey was an amazing platform that I was able to leverage for information about top performing surgeons in Costa Rica. As soon as I reached out to Patient Journey regarding my interest in a breast augmentation, they got back to me immediately.
Patient Journey provided me all the tools and resources I would need to start planning my surgery. They were able to answer all of my questions and concerns as well as put me in touch with three highly accredited surgeons.
After research and virtually interviewing the surgeons, I selected Dr. Pino to perform my breast augmentation. As a Canadian vacationing in Costa Rica, Dr. Pino was extremely flexible and accommodating and booked me in for the surgery date that best fit my schedule.
I was traveling Costa Rica during Covid-19 and Dr. Pino had accommodated a last-minute booking for a surgery date. He also helped me with key information so I could book my hotel accommodation and my Covid-19 test in order for me to fly back to Canada post-surgery.
Patient Journey provided me with such an incredible experience, as well as with Dr. Pino. These services made me feel comfortable and at ease.
Cesar
Hello everyone, I'm one of the founders of Patient Journey. I decided to have a procedure done myself. My goal was to experience what one of our Plastic Surgery Doctors does for all our patients in my own skin. These video series will show you the pre, during and post sequence of my procedure. My own experience at Universal Plastic Surgery was easy, flawless and painless. I'm confident you can experience the same.
Preparing for Surgery
Operating and Recovery Room
Surgery:
Warning:
Impactful surgical images shown.
Cesar's Amazing Recovery Journey
Day 1
Day 2
Day 3
Day 5
Day 6
Chat With Us
We have a full time team ready to serve you!
Use the WhatsApp

button below to be connected to us instantly.
You can also reach us at: (305)799-6765.
We look forward to speaking with you!